Minsk Square is going to be closed for 2 years for Namma Metro

Namma Metro underground work is going to start this weekend when the Minsk Square junction will be closed for coming 2 years. This will lead complete traffic jams and diversion across all the major section from Bengaluru east.


Namma Metro work is going to start at the Minsk Square junction at Telephone House and HAL Corporate office for the underground work of Metro for next 2 years officially. Be prepare to get this extended for 5 year too.
The Minsk Square traffic will be diverted from this weekend and metro underground work will start.

Be prepared to face more traffic jams and also stuck in for hours together. As Traffic police has already predicted lot of traffic problems with closure of Minsk Square, as there are about 900 buses plying from the area.

The most affected areas will be traffic flowing from Koramangala, Indiranagar and further areas in Bengaluru east. This route is mostly used by most of the VIPs for travelling to the old airport road.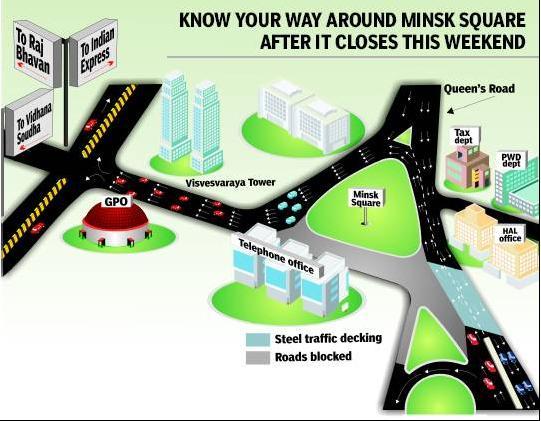 Image Courtesy: epaper.indiatimes.com

Get the new plans for Traffic Diversion

Newly laid Kings Road in Cubbon park and goes in front of the KGID Builidng and Press Club of Bangalore.

MG Road Junction and Kasturba Road, motorist will have to take road next to Raj Bhavan toy train track to go past the tennis pavilion to reach KR Circle after taking a right turn at Siddalingaiah Circle.

More updates on Traffic diversion are to planned by the traffic department.